The trip followed a number of regional tours by high-ranking U.S. officials, including Vice President Kamala Harris.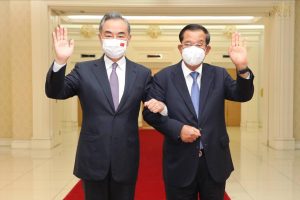 Cambodian Prime Minister Hun Sen (right) and Chinese Foreign Minister Wang Yi pose ahead of their meeting in Phnom Penh, Cambodia, on September 13, 2021.
China's Foreign Minister Wang Yi today concluded a three-nation tour of Southeast Asia with stops in Singapore and Cambodia aimed at shoring up Beijing's diplomatic engagement with the region following a number of visits by high-ranking U.S. officials.
Prior to his departure for South Korea today, Wang paid a two-day visit to Singapore, where he met with Prime Minister Lee Hsien Loong and reaffirmed the importance of trade and diplomatic ties between the two countries.
In a Facebook post yesterday, Lee said he had a "productive and candid discussion on international and regional developments," and pledged to continue "working closely" to combat the COVID-19 pandemic. "Singapore welcomes China's continued contribution in our part of the world, and will continue working with China to build a more harmonious and peaceful world," Lee wrote.
Wang's stop, which has followed visits to all 10 Association of Southeast Asian Nations (ASEAN) states over the past year, came after U.S. Vice President Kamala Harris and Secretary of Defense Lloyd Austin wrapped up recent Southeast Asian trips that included stops in Singapore.
During their visits, both spoke out strongly against Chinese actions in the disputed South China Sea. While in Singapore last month, Harris said that the U.S. would "stand with our allies and our partners" in the face of Chinese assertiveness.
The Southeast Asian city-state has long positioned itself deftly between China and the U.S., welcoming stronger defense ties with Washington while building up its economic relationship with Beijing.
As such, it made for a considerable contrast to Wang's previous stop, Cambodia, which over the past two decades has grown into China's closest ally and partner in Southeast Asia. During the Chinese foreign minister's visit, the two nations signed six bilateral agreements, including grant aid of $272 million, a handover of equipment to fight the COVID-19 pandemic, demining, and health support, according to Cambodian state media.
Wang also handed over a new, $160 million Chinese-funded stadium on the outskirts of the capital Phnom Penh, an occasion at which Prime Minister Hun Sen rhapsodized the benefits of Chinese support for his government.
In a speech at the handover of the 60,000-seat Morodok Techo Stadium – its name means "inheritance of Techo," an honorific for Hun Sen – the Cambodian leader described it as "the fruit of the ironclad Cambodian-Chinese friendship."
"Before, we could not imagine that Cambodia would have such a large stadium here, but China helps make it happen for us," Hun Sen said. Chinese support has also been crucial in Cambodia achieving the second-highest COVID-19 vaccination rate in Southeast Asia.
But Cambodia's tilt toward China has coincided with the erosion of Cambodian democracy, a rash of disruptive investments (many involving casinos and online gambling), and widespread Chinese organized crime activity in the seaside city of Sihanoukville. Indeed, these problems have become so pronounced that they threaten to undermine the two nations' relations.
According to a report in Chinese state media, Wang told Cambodian Foreign Minister Prak Sokhonn that he hopes Cambodian law enforcement agencies will completely put an end to online gambling and "avoid affecting the practical cooperation between the two countries."
In all, Wang's tour of Southeast Asia achieved its modest aim: to engage in diplomatic maintenance with important Chinese partners and reinforce the importance of China to the region's economic recovery from COVID-19.