The UK Government was steadfast in refusal earlier this month when asked if quarantine requirements would be eased for fans travelling to England for Euro 2020.
That stance, however, could reportedly be softened when it comes to admitting UEFA and FIFA officials, politicians, sponsors and broadcasters.
UK officials are determined for the semifinals and final of Euro 2020 to be held at Wembley, London, and are doing "as much as we possibly can" to appease UEFA according to one minister. Previously there had been rumors that the UEFA Champions League final, between Chelsea and Manchester City, could be held in the UK but an unwillingness to grant exemptions in that case proved a stumbling block.
However, English broadsheet newspaper The Times reported on Friday that the government will allow about 2500 VIPs into England without the need to quarantine in a bid to stop the Euros games being moved from London to Budapest. The Hungarian capital is the only one of 11 Euro 2020 host cities to stage matches at full capacity.
Currently, England's coronavirus restrictions would require most teams competing at the European Championships to quaratine for 10 days. Wales and Scotland are the only participating nations on England's green list, which means travellers don't require an isolation period.
Turkey is on the red list, which would mean a hotel quarantine of 10 days, while all other countries are on the amber list, which requires 10 days of self-isolation at home.
Travellers can be released from quarantine early if they produce a negative test, at least five days after arrival.
Policing and crime minister Kit Malthouse said they were trying to "accommodate the Euros as much as we possibly can".
"And while much of the concern around coronavirus regulations has been about whether one situation is fair compared with another situation, what we're generally trying to do is make difficult decisions about the path of a virus at the same time as trying to enable the ordinary operation of very special events like the Euros.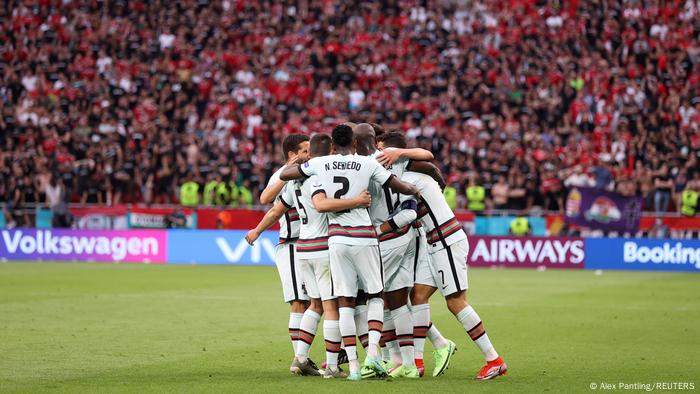 Games in Budapest are being played in front of a capacity crowd
"It's a great competition, we're very lucky to have it, we're trying to make it happen with as much kind of satisfaction all round as we possibly can and that will be taken into account in the decision over the next few days."
The Times reported that ministers were concerned the final and semifinals could be moved to Hungary if they don't relax the rules.
DW has contacted UEFA for clarification on these issues and will publish a response should one be received.
js/mp (Reuters, AP)