Rugby league commentator Phil Gould is hopeful the NRL's recent high tackle crackdown doesn't lead to "submissive" defence in this year's Origin series, but flagged the potential hypocrisy that emerges between the officiating at club level and in the state vs state battle.
The NRL's recent enforcement of the high tackle rules has led to an increase in sin bins, penalties, players on report and high scorelines. The crackdown began in an effort to better protect players from future health issues caused by repeated head trauma, but with the players attempting to adjust in response to the officiating, there have been some side effects that have left some league fans frustrated.
Gould is one of those concerned for how the crackdown has caused dramatic changes to the game, and his biggest fear is that it will translate to the Origin arena where unapologetic physicality is a beloved feature.
"We either referee the game the same way we have been doing and players submit in defence – I don't know how Origin is going to look like that – or they'll allow Origin go back to what it was which we all love and players love and these gladiators going out at this level love," Gould said on Wide World of Sports' Six Tackles with Gus.
"That's why they play this game, it's what they've grown up wanting to do. They understand what it is and the risks. These are the best of the best, the toughest of their breed.
"If we allow them to play that way then it's quite hypocritical to what we're going through in the club scene. So where do we go with it?"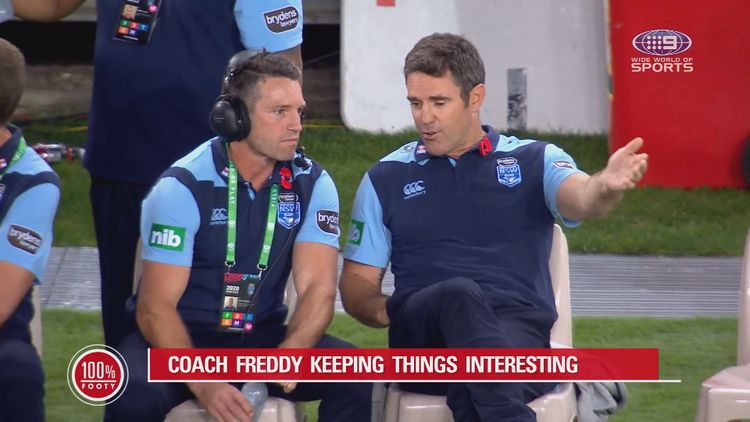 Gould explained that the issue is not a new one for rugby league, however the process of adjusting is ongoing.
"Players and coaches at the NRL level have had to do what they've had to do to deal with this situation. It's not the first time in our history this has had to happen. And all the problems we're getting from this, we've experienced before," Gould said.
"It'll solve itself in the end.
"We went through this years ago…that's how the tackle technique has evolved. The solution at the moment is for the players and coaches to be submissive with their tackling, to avoid the risk of tackles slipping up, which is giving all advantage to the attacking team and defences have just got to try and cope."
Despite the hurdles players and coaching staff have faced with the refereeing of late, Gould remained confident that Origin would still be it's brutal best in Wednesday night's opener in Townsville.
"I fail to believe that there'll be anything submissive about this game," he said.
"I think that's the way it'll start anyway, then it'll be up to the referee and whatever direction he wants to give."
Source link