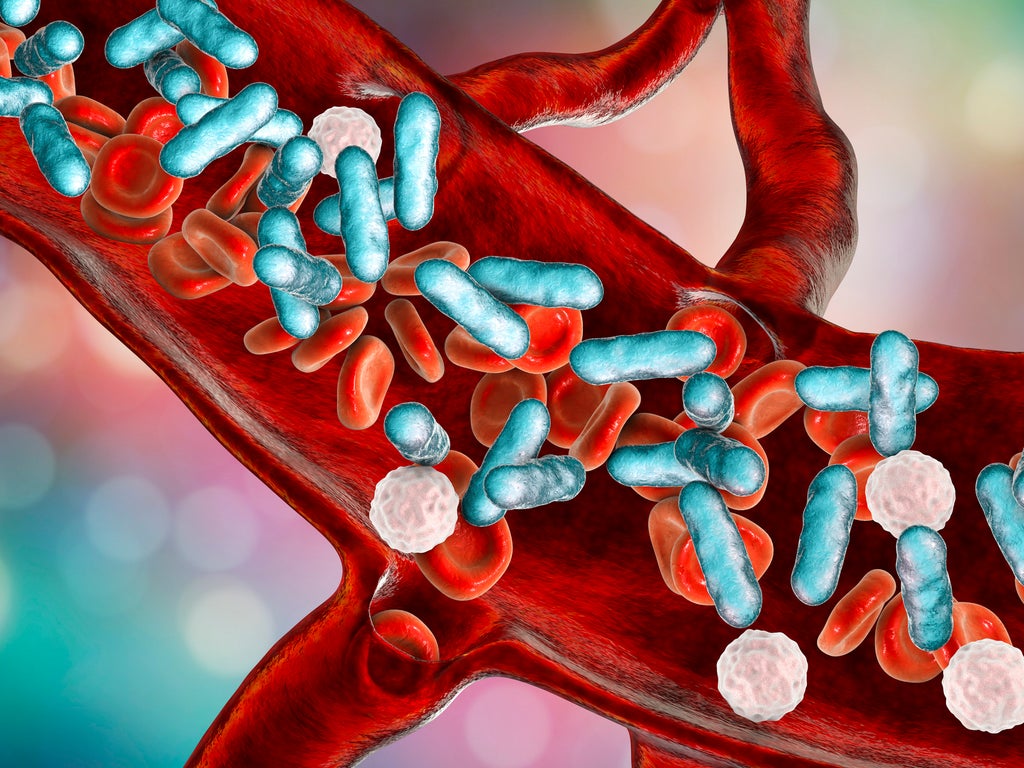 Today, World Sepsis Day is commemorated across the globe to raise awareness of the life-threatening condition.
It is a rare condition which can occur when a person suffers complications from an infection.
According to the Global Sepsis Alliance, the organisation behind World Sepsis Day, one person dies from sepsis every three to four seconds.
Here is everything you need to know about sepsis:
What is it?
Sepsis is a serious health condition which can develop when the body responds to an existing infection in an extreme way.
As the World Health Organisation (WHO) explains: "Sepsis arises when the body's response to an infection injures its own tissues and organs".
When sepsis occurs, it can cause widespread inflammation and blood clotting across the body.
If left untreated, sepsis can result in tissue damage, organ failure and death, the Centres for Disease Control and Prevention (CDC) outlines.
Sepsis is often referred to as blood poisoning or septicaemia.
However, blood poisoning and septicaemia specifically refer to the spread of bacteria in the blood, NHS Inform explains.
While bacterial infections are the most common cause of sepsis, it can also develop from viral or fungal infections.
What are the symptoms?
The NHS states that if you think a person is exhibiting signs of sepsis, you should call 999 or go to A&E immediately.
Possible symptoms of sepsis for a baby or a young child include:
When the skin, lips or tongue have become pale, blotchy or appear blue.
When a rash does not fade even when you roll a glass over it.
Breathlessness, rapid breathing or difficult breathing at all.
Crying in a high-pitched manner which does not sound like their usual cry.
Losing interest in feeding or their everyday hobbies.
Appearing more sleepy than usual or not waking with ease.

Health news in pictures
Show all 40
Possible symptoms of sepsis for an older child or an adult include:
When the skin, lips or tongue have become pale, blotchy or appear blue.
When a rash does not fade even when you roll a glass over it.
Breathlessness, rapid breathing or difficult breathing at all.
Appearing confused, acting in a nonsensical manner or slurring their speech.
The NHS adds that symptoms of sepsis can be similar to those of other health conditions, such as the flu.
The health service recommends calling 111 if a child or person you are taking care of exhibits symptoms including:
Feeling extremely unwell.
Failing to urinate for 12 hours for babies and young children and for a whole day for older children and adults.
Frequent vomiting.
Experiencing swelling around a cut.
Experiencing a very high or very low temperature, feeling hot or cold or shivering.
After a person has suffered from sepsis, they may still experience post-sepsis after-effects.
These post-sepsis symptoms can include:
Difficulty swallowing.
Difficulty concentrating.
Fatigue.
Mental health issues such as anxiety or sadness.
Weakness in the muscles.
Memory loss.
Insomnia.
How common is it?
Sepsis is estimated to affect more than 30 million people across the globe, WHO states.
According to the health organisation, the condition causes approximately six million deaths a year, and affects around three million newborn babies and 1.2 million children.
The UK Sepsis Trust outlines that 25,000 children are diagnosed with sepsis every year in the UK.
The charity adds that five people in the UK die as a result of the condition every hour.
While anyone can develop sepsis, those at greater risk include children under the age of one, adults over the age of 60, people who suffer from chronic diseases, individuals who have a weakened immune system and people who do not have a spleen, the Global Sepsis Alliance states.
How can sepsis be prevented?
The most effective way to avoid the development of sepsis is to prevent infection, the Global Sepsis Alliance says.
In order to avoid infection, an individual can carry out measures including undergoing vaccinations; ensuring that they only come into contact with clean water; washing their hands properly after they have been dirty and giving birth in a safe, sterilised environment.
Can it be treated?
When sepsis is identified at an early stage, it can be treated with antibiotics.
The majority of people with sepsis who are diagnosed at an early stage recover fully, NHS Inform states.
If an individual experiences severe sepsis or goes into septic shock – both regarded as "medical emergencies" – then they will need to be hospitalised and may be taken to an intensive care unit for treatment.
As severe sepsis can impact the body's vital organs, the condition can result in an individual becoming very ill.
NHS Inform states that four out of every 10 cases of severe sepsis can prove fatal, while the same goes for six out of every 10 cases of septic shock.
"However, sepsis is treatable if it is identified and treated quickly, and in most cases leads to full recovery with no lasting problems," the health service explains.
For more information on how sepsis is treated, click here.
Source link